There are many features taken into consideration while selecting a treadmill for your, say, Home Gym.
While filtering out the best treadmill, you might think about what is the top speed, how much incline the treadmill should have, does it have a monitor to record the data, and what is the price. 
There are many options available when it comes to buying exercise equipment for yourself. But the weight of the treadmill is one of those features which is overlooked.
Later, once you end up buying your treadmill, you realize that things are different and the weight of a treadmill becomes a real logical concern. 
Factors That Affect the Average Weight of Treadmills
Now you must think about what the weight of the treadmill is?!!
And why are we insisting on considering this as a feature you should look for before buying your treadmill?
A treadmill can weigh starting from 50 pounds to 500 pounds considering the average weight of a treadmill to be around 270 pounds. The weight of a treadmill depends upon its brand, quality, and style of a treadmill.
In this article, we are going to give you some real facts which will assist you in your purchase decision and help you from an unfortunate situation where you face difficulties after buying your treadmill.
I will suggest reading this article till the end before making a treadmill buying decision. 
Some treadmills are heavier than others. This depends on many factors, like the weight of the motor, the built up of the belt, and the Frame.
Motors are the reason why treadmills are heavy in weight. Which is the reason why manual treadmills are lighter than their counterparts.
1. MOTOR 
The most important factor when choosing a treadmill is the motor. A powerful motor is needed for heavier loads. As a rule of thumb, the more weight on the treadmill, the more power you need to move it.
There are two different kinds of motors – continuous duty motor and peak power motor.
The difference between these two is that the horsepower of continuous duty motors does not refer to the highest horsepower that any treadmill can reach but it defines the ability of a treadmill to sustain its speed.
So, the treadmill works on a similar horsepower for a variety of speeds. 
The highest horsepower of the treadmill is listed in Peak Motor. In contrast to the first, peak motors provide more power as they accelerate.
Since continuous duty motors can sustain the speed as well as the horsepower, they are heavier than the peak power motor.
The weight of a single engine can reach up to 50 pounds and it is made up of titanium or industrial-grade steel in order to handle the heat. 
2. FRAME 
Without the motor and belt, the frame is basically the treadmill.
It, therefore, makes a significant difference in how heavy or light a treadmill is. The majority of standard treadmills are made of aluminum since it is lightweight and inexpensive.
As steel is a heavy material, treadmills that are made of heavy-duty steel are heavier when compared to treadmills made up of aluminum.
Meanwhile, Titanium, which is 45% lighter than steel and about 60% heavier than aluminum element, is at the center of the scale.
It is one of the expenses out of the three as it gives a perfect balance of durability and weight and is used only for luxurious treadmills. 
3. BELT 
The treadmill's belt can add some weight to your treadmill, depending on its type.
Heavy rubber belts are used with some heavy-duty treadmills. Rubber is often heavier than PVC, so rubber treadmill belts will add more weight to the machine.
Curved treadmill belts weigh more than flat ones because they can hold more material when compared to manual treadmills. Curved decks are preferred by many runners because they make their workout more difficult.
Finally, because they need more parts, treadmills with inclination angles are heavier than their equivalents. Some treadmills with incline settings will therefore weigh almost 30 pounds more than those without incline.
How Heavy Is A Treadmill?
Folding treadmills, manual treadmills, and motorized treadmills are the three types of treadmills available today. Commercial ones are available as well, but only for gyms with a professional reputation.
We shall examine many treadmill types in this post, along with a summary of each type's weight.
Also, read:
Types of Treadmills (including average weight)
1. Foldable Treadmill 
Due to their small size, folding treadmills are popular among runners. Due to the ability of their decks to fold for storage, they are practical for small residences. Additionally, they are available as motorized and manual treadmills.
The manual treadmills are lighter than the foldable ones. A treadmill that is foldable will have an average weight of around 200 pounds which is generally normal and a good option if you are creating a home gym for yourself.
Any treadmill of around 200 pounds weight and a decent maximum weight capacity is an ideal choice for home users. 
2. Manual Treadmill 
The belt of a manual treadmill is designed to move along with your leg movement. It doesn't move independently the way motorized belts do. These treadmills are not just significantly lighter and cheaper than similar models.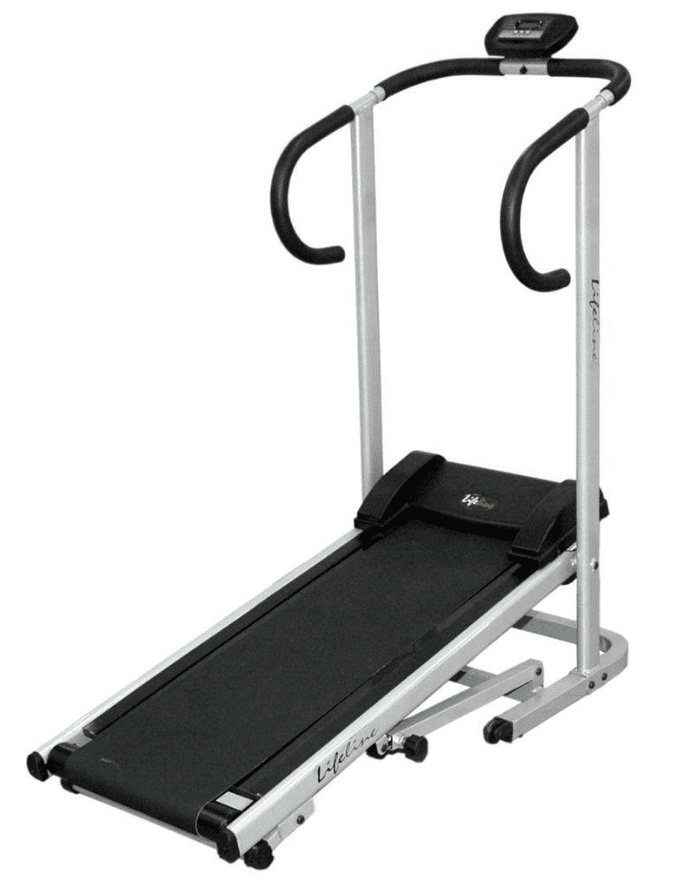 The absence of motor results in a reduction in overall weight, and a manually moving belt weighs less than a motorized one.
Typically, a manual treadmill weighs 60 pounds or a little bit more. Manual treadmills have restricted capabilities because of reduced overall weight. 
They do not offer screens, built-in programs, or high speeds. What you pay for, you get.
3. Motorized Treadmill 
Due to the weight of the engine, a motorized treadmill will weigh more than a manual treadmill.
A motorized treadmill typically weighs between 210 and 250 pounds, depending on the model you choose.
Depending on the strength of the motor and the substance of the frame, models will weigh differently.
Since they must produce more power, engines with greater power frequently weigh more. Regarding the structure, titanium treadmills are lighter than steel ones but are still quite heavy.
4. Commercial Treadmill 
When it comes to functionality, build-up quality, and power, commercial treadmills are best.
You often see commercial treadmills in a professional environments such as gyms, fitness rooms, or even physical therapy clinics. Usually, it is not ideal for home or self-gym as they are much more expensive than other treadmills. 
Commercial treadmills do not require much maintenance as they are highly durable.
Commercial treadmills' greatest asset is still their adaptability. These champions support all forms of running, from strolling to sprinting during marathons.
A commercial treadmill will typically weigh around 300 pounds. Because they need more parts and stronger motors, they are heavier than other models.
Does the Weight of a Treadmill Matter?
The weight of a treadmill does matter, and not just for when it has to be moved. A heavy-duty machine will last longer than one with flimsy parts that can barely support its own weight!
The quality materials used in building the frame have an impact on how well you'll survive your workout routine – so if this sounds like something up your alley then make sure to check out the reviews below before buying any treadmills today!
When buying a treadmill, it's important to consider not only what weight you can lift but also the quality of materials used.
We found that higher-priced treadmills had stronger and more durable build qualities as well as were able to hold heavier weights than cheaper models which could make them easier for users who want an intense workout experience without breaking their budget.
What's the weight capacity of a treadmill?
You might be wondering what weight capacity means. This is usually more important than the actual weight of a treadmill, as you'll keep it in one place and won't need to move unless necessary (which may not pose an issue).
On the other side, weight restrictions may limit some users' ability to use the treadmill for running. The design of treadmills will support a particular limit. Going over it will make you drive the motor harder, which should eventually wear it out.
The weight limit on most treadmills should be 200-300 lbs, but this may vary depending on the model.
High-end treadmills can accommodate up to 400lbs while lower-quality units have a lighter maximum capacity of only 250 pounds. Depending on their capabilities, manually operated treadmills will have lower weight capacities.
You may also like:
Treadmill Weight Table (Comparison)
Here is a table and comparison with respect to different parameters for different types of treadmills for your easy access.
| | | | |
| --- | --- | --- | --- |
| Treadmill Model | Treadmill Type | Treadmill Weight | Weight Capacity |
| Sunny Health Manual | Manual Treadmill | 46 lbs (21 kg) | 220 lbs (100 kg) |
| Phoenix 98510 | Manual Folding Treadmill | 45 lbs (21 kg) | 250 lbs (113 kg) |
| Confidence Power Plus 600W | Manual Folding Treadmill | 47 lbs (26 kg) | 220 lbs (100 kg) |
| ProGear 190 | Manual Treadmill | 49 lbs (22 kg) | 200 lbs (90 kg) |
| SereneLife Treadmill | Folding Treadmill | 67 lbs (30 kg) | 265 lbs (120 kg) |
| Rhythm Fun 2-in-1 | Folding Treadmill | 97 lbs (43 kg) | 220 lbs (100 kg) |
| XTERRA Fitness TR150 | Folding Treadmill | 108 lbs (48 kg) | 220 lbs (100 kg) |
| Sunny Health Treadmill SF-T7942 | Folding Treadmill | 72 lbs (32 kg) | 220 lbs (100 kg) |
| XTERRA Fitness TRX2500 | Motorized Treadmill | 207 lbs (93 kg) | 300 lbs (137 kg) |
| NordicTrack EXP7i | Motorized Treadmill | 222 lbs (101 kg) | 300 lbs (137 kg) |
| NordicTrack EXP10i | Motorized Treadmill | 229 lbs (103 kg) | 300 lbs (137 kg) |
| XTERRA Fitness TRX4500 | Motorized Treadmill | 213 lbs (96 kg) | 350 lbs (158 kg) |
| NordicTrack Commercial 1750 | Commercial Treadmill | 309 lbs (140 kg) | 300 lbs (137 kg) |
| Nautilus Treadmill Series T618 | Motorized Treadmill | 288 lbs (130 kg) | 350 lbs (158 kg) |
FAQs
Is moving a treadmill hard?
In general, treadmills are heavy and difficult to move precisely. Soft blankets should be used to cover the frame and handrails. Then, the moving blankets will lessen the impact if you hit anything when moving the equipment.
Since most treadmills can be folded, relocating the treadmill is significantly simpler. However, some treadmills that aren't foldable do have transfer wheels so you can easily move them.
How Do You Move a Treadmill?
If your treadmill isn't foldable and doesn't have wheels, it's easiest to move it with the help of a dolly. You can also disassemble your treadmill and move it part by part and eventually, you can assemble it back again.
How heavy is a pro form treadmill?
The ProForm foldable treadmill weighs 358 pounds. For this machine, 375 lbs is the maximum user weight that has been stated.  Its maximum speed is about 12 miles per hour. 
How long should a treadmill deck be?
Anything wider than 40 cm (16 inches) is preferable, but a 45 cm (18 inches) width will give you more breathing room. If you are using the treadmill for only walking then a track deck or length of 120 cm which is around 48 inches is also good to go.
Conclusion
So, how much does a treadmill weigh?
Obviously, this depends on the model and brand of treadmill you purchase.
However, as a general rule, most treadmills weigh between 150 and 250 pounds. This may seem like a lot to move around, but with the help of two people, it's definitely doable. 
And if you're really struggling, many manufacturers offer home delivery and installation services.
Now that you know all there is to know about treadmill weights (and I bet you never even imagined there was so much to learn), be sure to keep this information in mind when shopping for your next fitness equipment purchase.
Thanks for sticking with me until the end – I know this was a long one! Feel free to reach out to us if you have anything to ask.