Treadmills are among the best pieces of fitness equipment available. They allow you to work out at home while increasing your cardiovascular health by helping burn more calories than if you were only running or walking on pavement outside.
However, if you don't want to spend much on a treadmill and want a good machine in your budget, you are in luck!
There are plenty of treadmills under $600 that will keep your wallet happy while providing all the benefits of owning one.
5 Best Treadmills Under $600
If you are buying a treadmill for your home gym, you don't have to break the bank. If you're not on a high budget, you can still find high-quality treadmills under $600.
Today, I will help you find a treadmill that fits your budget and provides value and quality. You don't want to overspend, feel robbed, or underspend, and be underwhelmed with your purchase.
Quality and value are essential when choosing a treadmill. You want a durable and functional machine that provides a good workout experience.
This is why, I am here with the five best treadmills under $600 for you:
Overview:
Model Name
Key Features
Sunny Health and Fitness SF-T4400

Console with nine integrated workout programs
2.2 horsepower engine
Shock absorbers for a comfortable workout experience
Manual incline settings
Soft-drop folding mechanism with gas shocks
Weight capacity of 220 lbs.
3-year frame guarantee
180-day parts and components warranty.

XTERRA Fitness TR150

5-inch LCD screen
Dozen preset programs
User-friendly folding mechanism
Lifetime warranty on the frame
Sturdy feel
Good durability
Weight capacity of 250 lbs.
2.25 horsepower engine.

UREVO 2 in-1 Treadmill

Budget-friendly
Serves as a workstation
Flat-fold handlebar
Safety key
42″ running deck
2.5 horsepower engine
One-year guarantee
265-pound weight capacity

Goplus 2 in-1 Folding Treadmill

40-inch running deck
2.25-horsepower motor
Weight limit of 265 lbs.
Simple folding mechanism
Versatile and portable

NordicTrack T-Series Treadmill(T6.5 Si)

Weight capacity of 300 lbs.
10-year frame, 2-year parts, and 1-year labor guarantee
Flex cushioning system
iFit Coach-enabled
Up to 10 mph and 10% incline
2.6 continuous horsepower motor
Compact and EasyLift Assist
Auto breeze exercise fan.
The Sunny Health & Fitness SF-T4400 treadmill is an excellent choice for those who want great value for their money.
Despite its budget-friendly price tag of around $399, this Treadmill is equipped with shock absorbers, providing a comfortable and cushioned workout experience for users under 182.8 cm.
It's designed to be quiet, making it a good option for those who don't want their exercise time interrupted.
Features:
Footprint: 62" L x 25.5" W x 50" H
Warranty: 3-year frame, 180-day parts, and components
Weight Capacity: 220 lbs
Motor Horsepower: 2.2 HP
Max Speed: 9 MPH
Even though manual incline options need to be adjusted while the treadmill is not running, you can change its intensity by adjusting the incline.
The SF-T4400 has a soft-drop folding mechanism with gas shocks, making it easy and safe to fold and unfold—and that's just one of its many great features!
It is a great option for those who want to maximize the space in their home gym but still need an area in which to walk or run when they are not lifting weights.
The console offers nine built-in workout programs, giving users options for every type of workout. You can tailor the session to your preferences and track stats like distance, speed, the time elapsed, and calories burned on a large LCD screen.

With a weight limit of 220 lbs. and a motor horsepower of 2.2, the SF-T4400 is sturdy and durable, making it an excellent investment for home gym owners. It also comes with a 3-year frame and 180-day parts and components warranty, giving users peace of mind that they are investing in a high-quality product.
The folding feature of this treadmill is very convenient and easy to use. At the same time, it feels like an overall sturdy and durable despite being less bulky.
I would recommend placing a mat under the treadmill to protect hard floors from the manual incline bits. The included lubricant may not provide full belt coverage, and a more extended nozzle lubricant may be necessary.
Pros:
Built-in hand grip pulse sensors to track heart rate in real-time
Handrails with integrated controls for easy speed changes
Cushioned running surface
Nine pre-designed workouts.
Two bottle slots as well as a media shelf for entertainment while exercising.
Cons:
Manual incline adjustment
The very little running deck
Maximum weight capacity: 230 lbs
The treadmill's limited weight capability is a little disappointing.
The TR150 has a lifetime warranty on its frame, which we never see on budget treadmills. This shows that XTERRA Fitness stands behind its construction—and it's a great value for around $499 from Amazon.
The TR150 has a solid feel, despite not being heavy-duty or built to last long (like higher-end models), so it's best suited for runners who want something with good durability but don't need anything too fancy or high-tech.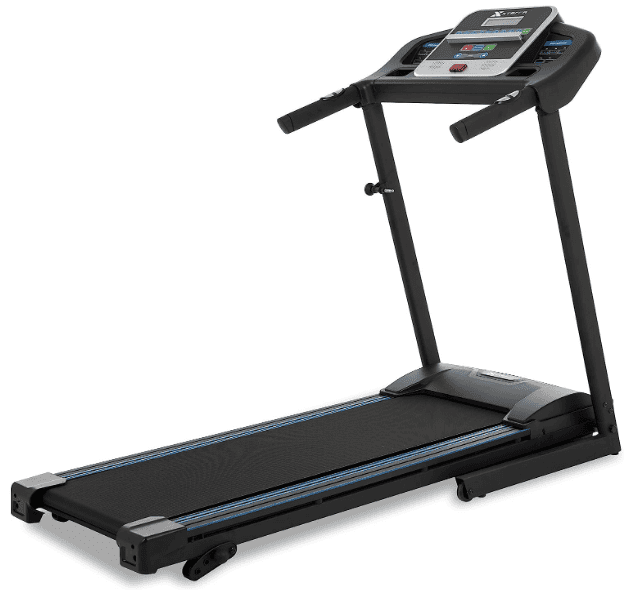 Features:
Dimensions: 63.4" x 28.75" x 51.4"
Weight: 108 lbs.
Weight limit: 250 lbs
2.25 HP motor
Speed range: .5-10 MPH
Deck length: 50 inches
Display: 5-inch LCD display
Programs: 12 preset
Incline: 3 levels
Heart rate capabilities: Within the hand grips
Warranty: Lifetime frame, 1-year motor, 90-days deck, 90-days labor
The 5-inch LCD screen and dozen preset programs make this folding treadmill great for casual runners and walkers; however, if you're an avid runner looking for more features like touch screens or powerful motors, choose another model!
I was very pleased with its folding mechanism, which makes it easy to fold up and down. It's a great space-saver, even though it's less bulky than other treadmills used before.
The manual incline bits of the treadmill could dig into the floor. Thus it is recommended to purchase a mat and place it under the treadmill to protect your hard floors.
Pros:
Lifetime frame guarantee
12 preset exercise routines
Handlebar-mounted heart rate monitor
Cons:
Folding mechanism missing a soft drop
50-inch deck
Little water bottle holder
You may also like:
Introducing the UREVO 2-in-1 Treadmill – a budget-friendly cardio machine that doubles as a workstation for those who want to exercise while working.
With its flat-fold handlebar, you can easily use it under your desk and fold it back up for walking or jogging during non-work hours.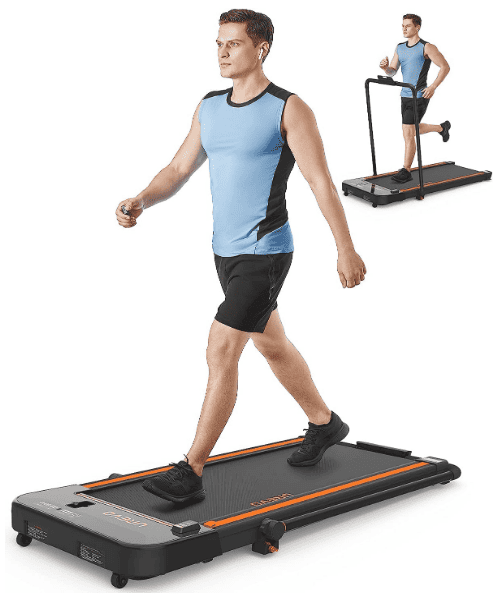 Features:
Brand: UREVO
Maximum weight: 265 lbs.
Motor: 2.5 hp motor
Maximum speed: 7.6 mph
Minimum speed: .6 mph
Folded dimensions: 54.7" x 26.4" x 5.1"
Simple to fold: Yes
Unfolded dimensions: 52.6 inches x 26.4 inches x 39.7 inches
Belt: 5 layers of anti-slip, shock-absorbing belt
Materials: Alloy steel
Weight: 59 pounds
The handlebar features speed controls, stop and start buttons, and a safety key for added convenience and safety. Despite its 42" running deck, the 2.5 horsepower motor provides enough power to support running speeds if your stride is narrow enough (or if you're beginning).
No assembly is required; plug it into an outlet and get moving! The Treadmill fits nicely under the bed or in small spaces making it an ideal option for those who don't have much space or want to exercise at home.
One of the customers mentioned that the packaging was solid, and the product arrived without any damage, but the cord was incredibly short.
UREVO 2 in-1 Treadmill has a one-year warranty, and with a weight capacity of 265 lbs and a maximum speed of 7.5 MPH, it's an excellent purchase compared to more expensive equipment because it's convenient, easy to store, and doesn't take up a lot of space.
If you're looking for a budget-friendly treadmill that can be used for light exercise and doesn't take up much space, the UREVO 2-in-1 Treadmill is an excellent option.
Pros:
Very simple to store
Portable and light-weight
Incredible 2.5 CHP motor
Cons:
No options for incline
For casual runners only
Short belt for a treadmill
The GoPlus Treadmill is a versatile and compact machine that can be used under your desk for a quick cardio workout while working. Its handlebar folds down to lie horizontal with the walking belt, making it effortless.
The GoPlus 2-in-1 Treadmill is a solid choice if you use it primarily under your desk but less so as the main cardio machine in your home gym.
Features:
Dimensions: 49″ x 27″ x 42″
Speed range: 1-8 mph
265 pound weight capacity
Dimensions when folded: 52″x 27″x 5″
40″x16″ running deck
2.25 horsepower ultra-quiet motor
Weight: 69.5 pounds
Display: Time, speed, distance, and calories burned are displayed on the screen.
Display type: LED Display
Bluetooth speakers: Yes
Foldable: Yes
The 2.25-horsepower motor should provide enough power to run at speeds, but the 40-inch running deck may need longer for some runners. This could still make an excellent under-desk treadmill option for people with a longer stride than average (or those who want more space between them and their desks).
On Amazon, the GoPlus 2-in-1 Treadmill is priced under $399 and has a 49 inches L x 27 inches W x 42 inches H footprint.
According to one customer review, it's easy to set up and move around because of this smaller size—ideal if you'll take your Treadmill on the road frequently!
However, the reviewer noted that the times, distance, and calories are inaccurate when using this treadmill with a lowered incline setting.
The GoPlus 2-in-1 Treadmill comes with a three-month warranty, making it more of an investment than other treadmills at its price point.
Pros:
Excellent for use as a desk treadmill
Reasonable motor size
LED display that is simple to read
Cons:
Not suitable for serious runners
Deck for short walks
No incline training
The NordicTrack T Series (T6.5 Si) treadmill is a budget-friendly option for power walkers and joggers who want a smaller, foldable treadmill with high-tech features.
The Treadmill comes with a one-year iFit subscription, an excellent value for those who want access to various workout programs.
The 10-inch HD touchscreen display, two built-in speakers, and tablet shelf are great features for those who like to watch TV or listen to music while working out.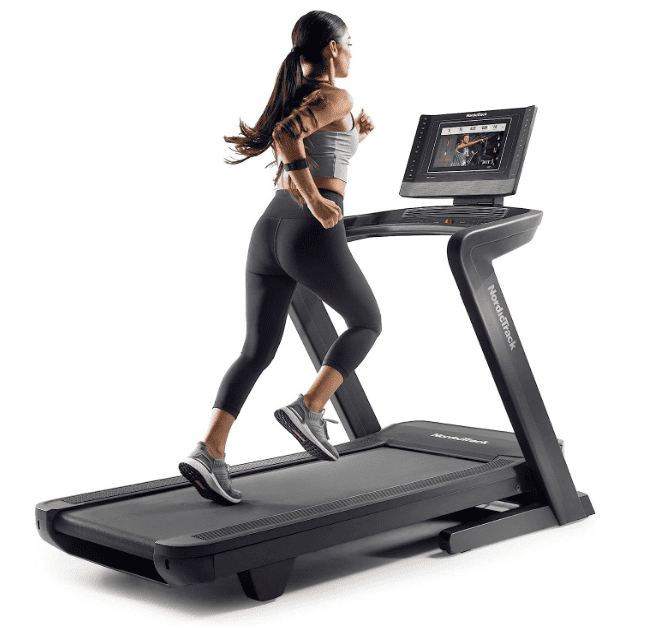 Features:
Dimensions: 73″ x 35.8″ x 67.5″
Weight: 200 lbs
Speed: 0.5 to 10 mph in increments of 0.1 mph
System of flexion select cushions
Technique for folding softly
Engine: 3 HP
Weight limit: 300 lbs
Size of the running belt: 20″ x 55″
One of the perfect features of this treadmill is the auto-adjust feature for speed and incline. It's a great way to prevent breaking form and distraction during a workout.
The incline can be set anywhere from 0% to 10%, making it appropriate for most power walkers and joggers. However, if your legs are long or you like running long distances, this treadmill may not be suitable because the surface is only about 2 feet wide (0%).
However, if you're starting as a runner, this isn't relatively easy since many people don't need much room anyway!
You'll also find no fan in this model either, which means less noise when using it outside, whereas others might need more ventilation due to their activity levels being higher than average.
One of my friends who recently purchased this treadmill is very satisfied with the equipment.
The setup process is pretty simple, though the box containing the treadmill is heavy. It is relatively quiet when walking or jogging, however, running produces a fair amount of noise.
This can be solved by using a mat underneath the treadmill or using Bluetooth headphones—either one will help mitigate the issue.
Pros:
Inexpensive and foldable
Premium technology at a great price
Streamlined, user-friendly console
Includes a 30-day iFit subscription
Cons:
Not intended for intensive training
No heart rate chest strap provided
Console has no fans
Also, read:
Benefits Of Treadmills Under $600
For anyone in the market for a treadmill, you may be curious about the benefits of purchasing one under $600. Luckily, there are several advantages to consider. Allow me to explain a few of them to you:
Health Benefits
If you're considering purchasing a treadmill but are on a budget, you might wonder if it's worth buying one under the $600 price point.
The good news is that when it comes to the health benefits of using a treadmill, there's no difference between a budget-friendly option and a more expensive one.
Whether you spend $600 or $6,000 (or anywhere in between), working out with one will help improve overall wellness by increasing your heart rate and burning calories during exercise sessions.
Walking or running on a treadmill is one of the most effective forms of exercise—and they're great for all ages!
So if your goal is getting into shape without breaking the bank while ensuring that your workout isn't interrupted by traffic or inconvenient places nearby, these machines have everything needed for success!
An inexpensive home gym addition
A treadmill under $600 can be ideal for your home gym if you're trying to expand it without going over budget. Compared to other cardio equipment like stationary bikes or ellipticals, treadmills offer a more intense workout that helps you burn more calories in less time.
By investing in a budget-friendly treadmill, you can enjoy the convenience of working out at home without spending a fortune. Plus, with the ability to adjust speed and incline, you can customize your workout to fit your fitness level and goals.
And remember the convenience factor! With a treadmill at home, there's no need for expensive membership fees or travel expenses—you'll never have an excuse not to get on one because they're so easy just plugging in some earbuds (or using those built-in speakers).
So if this sounds like something that could help make staying fit easier for everyone involved—and maybe even save some money along the way—I recommend checking out some great options above!
Portable and lighter
Budget treadmills also have the third benefit of being lighter and smaller than their commercial counterparts, which makes them a fantastic choice if you have a tiny room or need to relocate the treadmill sometimes.
For example, if you have a small apartment or a shared living space, a budget treadmill can easily fit into a corner or under a desk without taking up too much room.
And if you need to move it around for cleaning or rearranging, the lighter weight makes it much easier to do so—and it's not like there's anything wrong with having your workout equipment stored securely away!
What To Look For In A Treadmill Under $600?
When buying a treadmill under $600 you should have the following essential considerations in mind:
Price
When buying cardio equipment, having a budget is essential. Determining your budget and looking for a treadmill within it is essential. More affordable solutions might not provide financing; just be aware of that!
Warranty
With treadmills priced under $600, the guarantee is a crucial thing to think about. Some machines come with a one-year warranty, but others, like the XTERRA T150, have a more extended, more fair warranty. Selecting a device that offers you a reasonable price point and a trustworthy warranty is essential.
Weight limit
You should be aware of the weight limit of the Treadmill you select if you weigh near to or more than 200 pounds. The maximum user weight for many affordable alternatives is 220 pounds, which might need more for specific users.
Motor
Consider the motor's power if you intend to do more than walk on your Treadmill. A low-cost treadmill usually means a weaker motor. It would help if you looked for a treadmill with a minimum 2.25 constant horsepower motor for running.
Deck size
Consider its deck size if you intend to run on the treadmill. For taller users, a more extended deck offers more excellent space for stride length. Try to find a deck that is at least 55 inches long.
Incline range
Considering a treadmill with an inclination range might help you increase the intensity of your workout. While some low-cost treadmills have automatic incline adjustments, others feature manual ones. The incline range of the treadmill should be at least 10%.
Programs and features
While less expensive treadmills might not include the same bells and whistles as more expensive models, they frequently do. Search for a treadmill with interval training or heart rate monitoring programs that match your fitness preferences and goals.
Folding design
If you have a little room, think about a treadmill that folds. This function is seen on many inexpensive treadmills, making it simple to stow the device while not in use.
FAQ:
Is the Treadmill good for losing belly fat?
Treadmills are great for losing belly fat. Regular treadmill use not only helps you lose belly fat but also, in the long run, you'll be able to keep the weight off for good—and it will keep that deep belly fat from returning even if you gain some weight later on!
Are cheap treadmills worth it?
A treadmill that costs under $600 is an excellent option for meeting the recommended daily calorie intake or maintaining a consistent level of physical exercise. With one of these in your home, you can walk at whatever pace suits you—as long as it's moderate!
What is the most reliable treadmill brand?
NordicTrack, a home-exercise equipment manufacturer founded in 1975 and dedicated to comfort, safety and durability, has earned the reputation of making high-quality treadmills.
Many consumers feel that NordicTracks are superior to their peers because they provide excellent workouts while being ergonomic enough for anyone's needs.
What type of Treadmill is best for home use?
If you're into high-impact running, there may be better options than a low-cost treadmill for your workout. A cheaper model may only withstand regular fast running if it breaks down over time.
Conclusion – Which Is The Best Treadmill Under $600?
In conclusion, buying a treadmill under $600 can be an excellent investment for your health and fitness goals. There are many options for purchasing a treadmill, but you must consider price, warranty duration, weight limit, and incline range. The more powerful the motor is (beats per minute), the better it is quality.
Among the best treadmills, under $600, is the NordicTrack T6.5 Si model, which offers a powerful motor—among other features such as an adjustable incline and various workout programs.
Keep in mind that the best Treadmill is not necessarily the most expensive one but rather one that meets your needs and fits into your budget. And remember to keep it well-maintained to enjoy years of trouble-free running.
Whether planning a workout routine, doing cardio, or working on muscle strength and endurance—a treadmill can be a great addition to your home gym setup. So get ready to run or work out with this reliable Treadmill for under $600!